FOUR DIMENSIONS LANDSCAPE COMPANY


Restoring the Earth, One Garden at a Time
Four Dimensions is a group of landscape architects, landscape contractors and maintenance gardeners. We serve the San Francisco Bay Area and Northern California with well-planned, skillfully crafted, beautiful outdoor environments that enrich both human and natural life.

Our projects range in size from small urban gardens to larger suburban and rural estates.

Welcome to our website! Thanks for visiting. We hope you will enjoy your time here.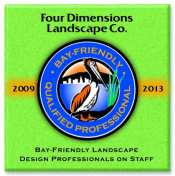 ©2013 Four Dimensions Landscape Company
California landscape architect #2906. California landscape contractor #484907. Certified horticulturists.