"We wish to thank you and your staff for the wonderful design and exceptional implementation of our California native garden. Your installation crew was courteous, knowledgeable and proactive. The hummingbirds and bees have already visited the new plants. My husband and I are outside several times a day, walking along the path, enjoying the gurgling sounds of the new fountain. "
Valerie, Orinda
Building the garden...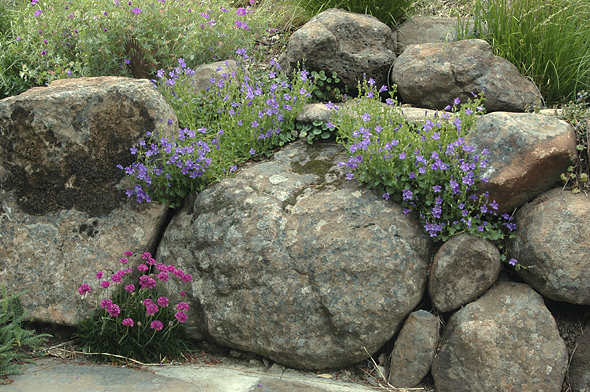 Four Dimensions' team of skilled craftsmen and artisans have many years of experience building architectural forms using the natural elements of stone, wood, water and plants.
Projects range in size from small garden remodeling to mid-size new landscape construction.

Each construction project is personally supervised by the lead designer to ensure continuity from the drawn plan to the built project. Our in-house construction teams are thorough, neat, respectful and reliable. We move methodically through the garden building process--from clearing and demolition to grading, drainage and construction of designed elements. These may include beautiful walls, patios, arbors, decks, stairs, paths and irrigation systems. Sculpture, ornament and artful plantings contribute a unique finishing touch.

Four Dimensions will build a garden that you will enjoy for many years to come. We appreciate the opportunity to transform your outdoor habitat and will strive to make the construction experience enjoyable to you.
You can learn more about our installation service by emailing us at office@fourdimensionslandscape.com or call us at (510) 893-1999.
California Landscape Architect #2906. California Landscape Contractor #484907.